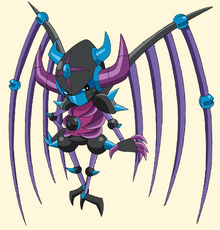 Hazama Yamio (波佐間 ヤミ雄) is a demon-like Voca Bot voiced by Atsushi Imaruoka. He is the lord of the Yami Yami Neji. Although he entitles himself the "Dark Messiah Omega" (ダークメシア・オメガ) and a "savior of the darkness born from chaos", he is actually a 38 years old Voca Bot.
Through the Yami Yami Neji, he absorbed negative emotions such as the resentment from various people across time to become more powerful, but his plan was hindered by Sugo Sugoindā Neji, causing him to only absorb small amounts of dark enejy. In episode 31, after Dr. Nejily's defeat, Yamio decides that it is time for his appearance, possessing Dr. Nejily with the Yami Yami Neji and trying to change the gag world into a serious world. Despite his great power, he is defeated by Heybot and Nejiru in a Voca Battle. After his defeat, a Dark Nejiru suddenly appears and beats him with a special technique, releasing Dr. Nejily.
Gallery
Ad blocker interference detected!
Wikia is a free-to-use site that makes money from advertising. We have a modified experience for viewers using ad blockers

Wikia is not accessible if you've made further modifications. Remove the custom ad blocker rule(s) and the page will load as expected.