This article or section is a stub. You can help the Heybot! Wiki by expanding it!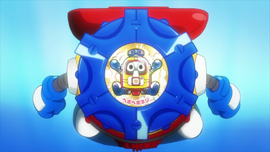 Hebo Hebo Neji (ヘボヘボネジ) is a special Voca Neji from Heybot.
Meaning
Hebo (へぼ) is Japanese for clumsy, unskillful, and bungling. In some websites hebo is translated as "bonehead", fitting with Heybot's nature.
Voca Words
Word
Translation
1
かかってこいヘボ
2
やるならやるヘボ
3
逃げるが勝ちヘボ ヘボヘボダ~シュ!
Ad blocker interference detected!
Wikia is a free-to-use site that makes money from advertising. We have a modified experience for viewers using ad blockers

Wikia is not accessible if you've made further modifications. Remove the custom ad blocker rule(s) and the page will load as expected.