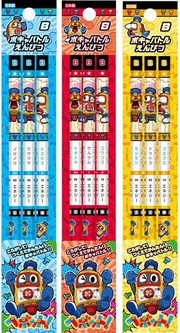 Heybot! Voca Battle Pencil (ヘボット! ボキャバトルえんぴつ Hebotto! Bokya Batoru Enpitsu) is a Heybot! themed battle pencil game released by Sun-Star Stationary in Japan. Similar to Voca Battles, each player uses a pencil like a Voca Neji and attempt to make the best combo by rolling the pencil.
Similar pencils appeared in episode 31, where Heybot obtaine a certain victory pencil from Robo Jaku and used it to win a match against Robo Giri. Unlike the real pencils, each side of the pencil has a combo level instead of a Voca Neji.
Ad blocker interference detected!
Wikia is a free-to-use site that makes money from advertising. We have a modified experience for viewers using ad blockers

Wikia is not accessible if you've made further modifications. Remove the custom ad blocker rule(s) and the page will load as expected.